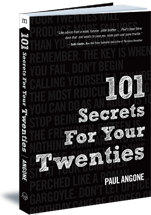 My twenties. I am more than half-way through them, and they are, in the words of T. Swift, "miserable and magical at the same time." Paul Angone perfectly captures that feeling, and gives advice on what to do with it, in 101 Secrets for Your Twenties. I wish I'd had this book when I was 22.
I've been reading Paul's blog for a long time, so I was so glad to hear there would be a book. Paul has an amazing ability to perfectly capture what life is like as a twentysomething. There were times when I wondered if he wasn't doing some sort of covert spying on me, reading my mind from a distance. His book is no different.
101 Secrets tackles all the things at the forefront of every twentysomething's mind: faith, relationships, career (or lack thereof), and quarter-life crises (we can have more than one of those, right?). Some of the secrets made me laugh, like #5, which outlines when NOT to check facebook (I might add Valentine's Day to the list for single people). Some of the secrets made me think, like #68, "Frustration can be the best guide to leading you where you need to go." Some of the secrets made me tear up with relief that I am not the only one (that's literally secret #32). And some of the secrets made me do all three (#39: "Attending weddings in your 20s is like going to high school prom all over again."). My book is all marked up and will be revisited time and again, I'm sure.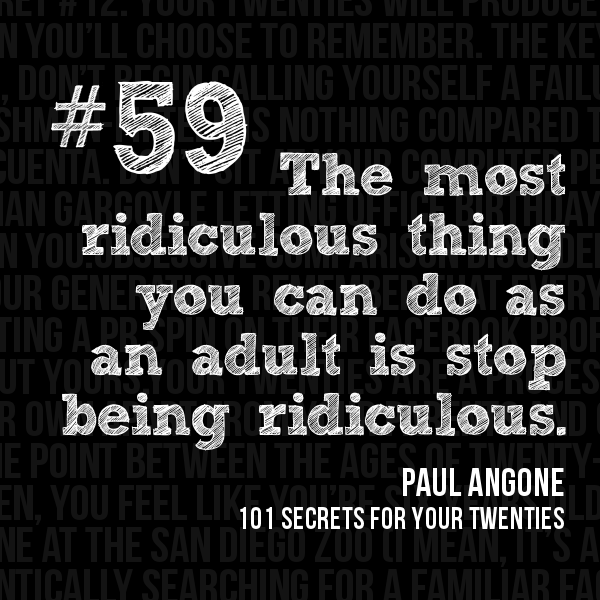 In addition to advice, 101 Secrets also provides guides to help readers know if they are having a quarter-life crisis, if they are, in fact, a grown up, and what kind of karaoke singer they should look for in a spouse, among others. It's really all-encompassing.
The style of 101 Secrets makes it easy to read–I read most of it in one sitting–and fun to share. I would highly recommend it as a college graduation gift or a 20th birthday present for anyone. It's great for those of us on our way out of our twenties, too (and probably even those in other decades).
I loved the book, but like they always said on Reading Rainbow, "you don't have to take my word for it!" You can long distance dating med school (and you should). You can dating at the texas state fair or reddit most reliable dating apps. Check out tteenage dating statistics los angeles. And finally, if you tweet about it, use the #101Secrets.